How to Choose Moca Cream Limestone Tiles
The choice of tiles for your project may be a difficult one, specially if you are not familiar with the stone, supplier or overall quality and standards. This is also the case with the choice of Moca Cream limestone tiles. We present you here a guide with some factors to take into consideration on the moment you choose Moca Cream limestone tiles for your new project.
1. Price
Certainly one of the main decision making factors on choosing some limestone tiles. For the Moca Cream, it is important to consider the different variations when it comes to pricing. The fine grain is normally more expensive, while the medium and gross grain are more affordable options. Some companies charge more for the cross cut variation, but in many cases the cross cut and vein cut cost the same.
2. Dimension
There are several possible dimensions for Moca Cream limestone tiles, according to the clients needs. Of course, there are the standard dimensions such as 30x30cm, 40x40cm, 60x60cm, 60x30cm and 60x40cm. We would like to note that anything below 60x60cm will be cheaper, which is mainly related to waste that makes the 60x60cm and above most wasteful and therefore more expensive. These dimensions normally come with 2cm thickness, whereas the 30x30cm can also come with 1cm or 1,2cm thickness.
3. Finishing
The most common types of finishings for Moca Cream limestone tiles are the polished, honed, brushed and tumbled. These are finishings that can be easily done with less thickness (such as 1cm or 2cm), without danger of breaking the limestone. Other finishings such as bush-hammered or split face are recommended with thicker pieces.
4. Grade / Variation
The choice of your Moca Cream limestone tiles can be 100% related or conditioned by the grade or variation that the supplier has available. Most suppliers will be able to offer one or two grades of Moca Cream (normally vein cut, thin and medium grain types). However, you can always ask for cross cut variations, as well as thick grain Moca Cream. I remember that the main variations of this limestone are thin, medium and gross grain (with cross and vein cut).
5. Edges
Most suppliers will supply Moca Cream limestone tiles with bevelled edges. This is very because as a limestone, the Moca Cream is a softer stone that can present softer edges (easier to break or damage). In order to avoid this, most tiles have a small bevel. However, it is also possible to supply Moca Cream limestone tiles with no bevel (or straight edges). In this case, when applying the tiles you will not see any small gaps between the tiles.
6. Packaging
This is an important point to consider when buying Moca Cream limestone tiles, specially if you are importing the tiles and not buying locally. The transport and handling of the crates can damage the tiles, therefore it is essential to make sure that your supplier provides proper packaging. A normal packaging is a wooden crate, with some separation between each tile (a plastic sheet, string, etc). These wooden crates should be properly reinforced to resist the constant movements caused during transport.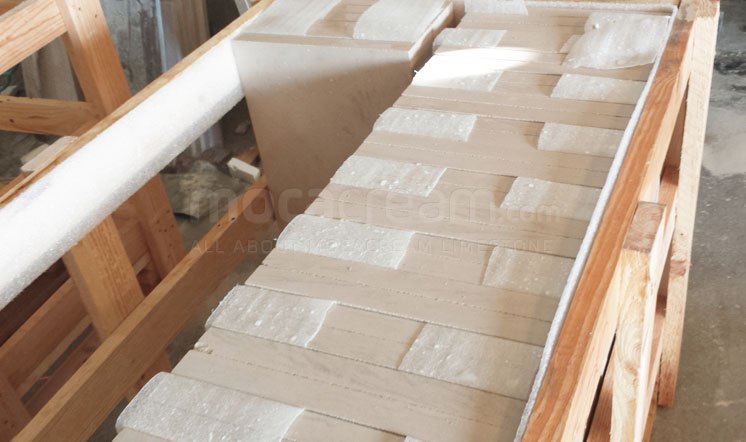 7. Stock or New Production
A final point that may also interest you is if the Moca Cream limestone tiles that you are buying are an old stock, or some new ´fresh´ production. Fortunately it is not the case with the Moca Cream, but some natural stones age with time, which means that they change slightly the color with years. Despite not being a real problem with the Moca Cream, you do not loose much in asking about the age of your tiles.