The Region
The area where the Moca Cream Limestone is extracted is also known for its famous ancestors. We are talking about dinosaurs that populated this area more than 175 millions year ago. Today, evidence of dinosaurs steps can be found in several places throughout this area, where quarrying explorations have been closed in order to give place to cultural and historical heritage sites with footprints of dinosaurs. Located in the Serra D´Aires e Candeeiros Natural Park, the Moca Cream limestone extraction area is nearby the medieval town of Alcanede.
Alcanede is a historical town known for its medieval castle and Romanic influence in structures such as bridges, roads and stone houses. Alcanede is also known for its traditional industry of the locally called "Red Mud" or clay that is used in the production of ceramics for the construction sector. But Alcanede´s recognition comes from its main natural resource, the limestone.
The Limestone
The Moca Cream limestone is explored around the area of Pé da Pedreira – Alcanede, by more than twenty small to medium size companies, employing directly over 200 people. Pé da Pedreira is considered the main ornamental limestone quarrying centre in Portugal.
The Moca Cream limestone is a type of stone that basically does not have direct competition in the international market. However, in the past few years has had an incredible production level, which was mainly driven by the high demand from the China market.
Constraints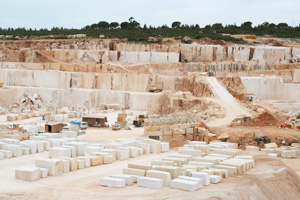 Unfortunately, the extraction area for the Moca Cream limestone is located in a protected Natural Reserve – the Serra D´Aires e Candeeiros Natural Park. This situation constrains the extraction expansion and development of some quarries, which raises questions about the long term sustainability of some quarries.
In the meantime, the Moca Cream limestone will continue to be the ex-libris of Portuguese Limestones and a reference natural stone for architects and interior decorators all over the World.