The two most important beige coloured limestones from Portugal often makes people confused about which limestone is which, what are the main differences between these two limestone, its main characteristics, and at the final decision, which one to choose.
We make here a brief comparison of both limestones, on an attempt to demystify any doubts that people may have about these two beautiful Portuguese beige coloured limestones.
Limestone comparison
Both Moca Cream and Moleanos are beige coloured limestone that are extracted in the central part of Portugal, at the main limestone extraction area in the country. Technically these two limestones share a similar history and composition background, with its extraction areas being only separated by not more than 20 kilometres.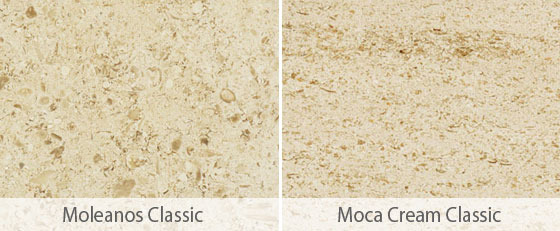 Despite these common points, there are three main factors that distinguish both limestones from each other:
– Appearance: while the Moleanos is characterized by its fairly uniform beige coloured background (with some presence of fossils), the Moca Cream main characteristic is its uniform parallel vein and beige coloured background.
– Technical properties: the Moleanos limestone is a fairly harder type of limestone, being commonly used in distinct flooring applications. This is not the case with the Moca Cream, which does not have such hardness, being mostly used in coverings and cladding applications.
– Variations: this is perhaps one of the points where these limestone diverge the most. While the Moleanos present some blue colour variations in relation to the beige colour, the Moca Cream can have variations as cross cut or vein cut.
Alternative limestones?
Despite these evident differences, can we consider the Moleanos an alternative to the Moca Cream limestone, and vice-versa? In many cases yes.
These two limestones have few things in common that its possible to find the exact type of variation that match the other limestone. For example, on the picture below you can see how visually similar the Moca Cream fine grain cross cut (in favour) is in relation to the Moleanos fine grain. We see that the Moca Cream presents a shadow structure with some dispersed grain, while the Moleanos presents a more uniform grain background. However, if we present both limestones with a honed finishing, it will be fairly hard to tell the difference.
This is a good example on how these two limestones can be alternatives to each other. They are technically different, but if we are trying to match appearance, it is possible to find a result.
But despite any possible attempts in trying to present these limestones as direct competitors and alternatives, the reality is that they are fairly different limestones that often cater to different market segments and projects. And they will both continue to have their own individual identity as reference beige limestones.