Moca Cream limestone project: Qatar embassy in Brussels
The Qatar Embassy compound in Brussels – Belgium, has become a reference project, known for its extensive use of a single natural stone to cover pretty much all kinds of exterior and interior applications: the Moca Cream limestone. 
Designed by the renowned Belgian architect Jaspers-Eyes Architects, the Qatar Embassy project in Brussels is an impressive building, entirely covered with Moca Cream limestone. The limestone was extensively used on diverse exterior applications, such as cladding, masonry and some wall coverings, but specially on interior applications such as flooring, wall coverings, columns, staircases, bath decoration and more. The idea of the project was to cover it entirely with this wonderful, which is today a reference beige limestone in Qatar. After its completion in 2014, the project was awarded with the FEBE Outstanding Precast Award.
The final result is a beautiful and elegant building on the exterior and quite a magnificent decoration on all the interiors, particularly in the main hall.
Project Profile:
Building Type: Embassy / Government
Location: Brussels, Belgium
Materials: Moca Cream
Applications: Exterior Cladding; Wall Coverings; Flooring; Interior decoration
Moca Cream limestone / Exterior cladding / Qatar embassy
Moca Cream limestone / Exterior cladding /
Qatar embassy

Moca Cream limestone interior flooring and columns /
Qatar embassy
Moca Cream limestone / Wall coverings /
Qatar embassy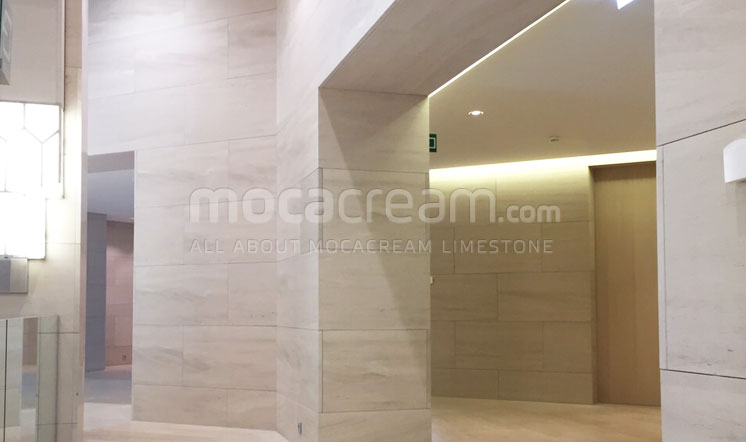 Moca Cream limestone / Exterior cladding and coverings /
Qatar embassy

Moca Cream limestone / Flooring, staircases and columns /
Qatar embassy
Moca Cream limestone / Staircase and wall coverings /
Qatar embassy