Moca Cream Reference Project: Tour de Finances Cladding
We will start here a series of articles where we analyse some reference projects done by us with Moca Cream limestone. We have mostly used Moca Cream limestone in cladding projects throughout the world, however we have also other types of projects done with this limestone that we will also present all our readers.
The project we present here is called Tour de Finances, a high rise building located in the centre of Brussels – Belgium.
The Project
The project concerns the Tour de Finances, a large public building that houses a finance department of the Belgian government. The building had already several years, but it was in a bad condition. So, the project was essentially the renovation of this tower, which is considered as the tallest building in Brussels.
This was a unique project for our company, as for the first time we had to use a very particular Fischer fixation system. We supplied large panels of Moca Cream limestone, which later would be applied on large aluminium panels. These aluminium panels where used as building wall, therefore being an integral part of the building cladding/façade.
All this process followed a very strict quality control on the Belgian supplier of aluminium panels, where every piece of limestone had tens of mm of limit. Anything above or below this tiny dimension would be refused. We had then to be quite strict with the quality control starting in the quarry.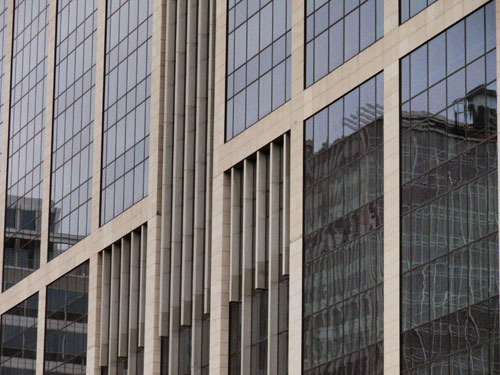 The Stone
The limestone used in the project was Moca Cream Relvinha limestone with a honed finishing. All panels had 40mm thickness and had 4 parallel holes in the back with the hole being wider in the deeper part. A clamp would then be place on each hole, which would later be fixed on the aluminium frames.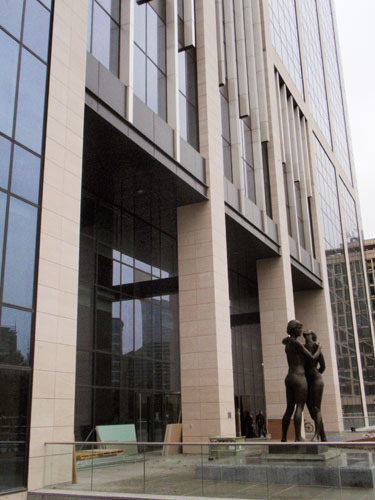 The selection of the limestone was done in the quarry before the start of the project. We booked a large wall of the quarry to be exclusive for this project, in order to guarantee a uniform supply and enough quantity to secure the supply.
The Tour de Finances is today one of our reference cladding projects done in Moca Cream limestone. The building is located in the city centre, being easily visible at considerable distance.