Moca Cream limestone project: Quatuor building
The Quatuor project is a reference building located in the north area of Brussels facing the city center,  which is now on the final stage of its construction. Its cladding includes the well-known Portuguese Moca Cream limestone.
Designed by the famous architects Jaspers-Eyers, the Quatuor building is an impressive project located in the north area of Brussels, facing the city center. This is a 4 similar-looking tower project, which are all connected and will offer diverse office space, commercial areas, gyms, restaurants and much more.
Offering 60,000 m² of offices, the buildings are designed to be passive and conform to the highest standards of quality, innovation and environmental performance. From the real estate developer Befimmo, this project is being developed by Besix, in partnership with several renowned subcontractors from all over the world.
This is a reference project that involves the supply of over 15.000m2 of Portuguese beige limestone Moca Cream for its external wall cladding and some interior wall cladding applications. The limestone panels are 40mm thick and require a special fixation system. The limestone panels are integrated into larger panels that include the glass and all the elements of the wall cladding.
The project is meant to be finished early 2021 and will become an impressive structure on the skyline of Brussels, which is known for its particular taste for the Moca Cream limestone for exterior wall cladding applications. 
Project Profile:
Building Type: Commercial
Location: Brussels, Belgium
Materials: Moca Cream
Applications: Exterior Cladding
Moca Cream limestone / Cladding panels installation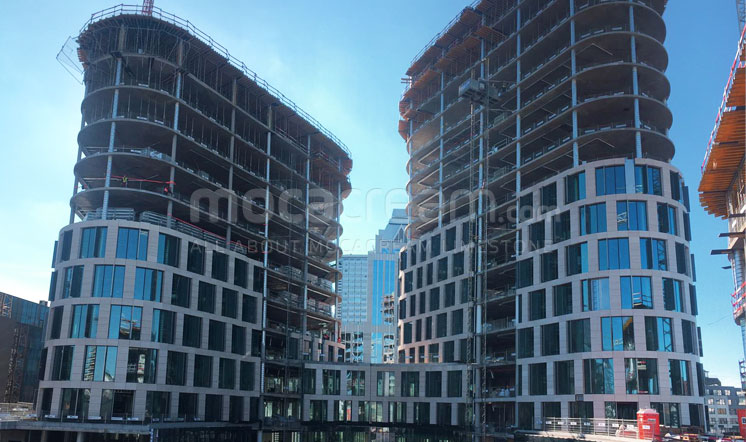 Moca Cream limestone / Side view of buildings

Moca Cream limestone cladding view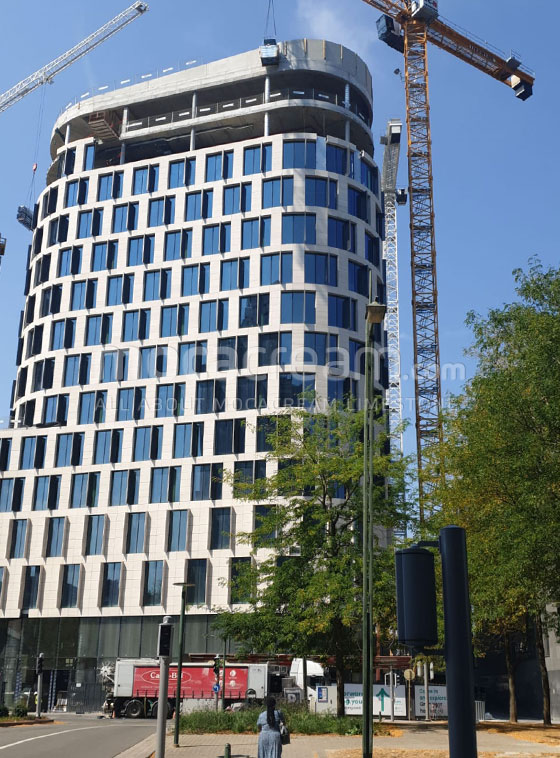 Moca Cream limestone cladding view
Moca Cream limestone curved cladding
Moca Cream limestone cladding view