Beige Limestone Analysis: Moca Cream
The Moca Cream is a beige coloured limestone from Portugal that has gained a considerable reputation in the past years, and is today a reference beige marble on the international market. But what is behind this unique´s limestone success? Here we try analyse this limestone and explain the main reasons of its success.
Background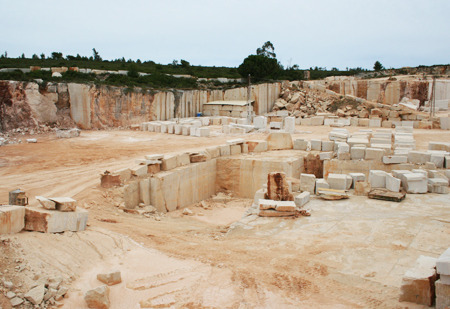 The Moca Cream is explored around the area of Alcanede – Portugal by a bunch of quarries with small to medium dimension. This area where the Moca Cream is extracted is at the core of the main limestone extraction area in Portugal, where other major limestones such as the Moleanos or Rosal are extracted. Due to the unique parallel beige coloured vein, the Moca Cream basically has no direct competitor at the international level with the same relevancy, quality and market availability.
Variations
The Moca Cream is a fairly uniform type of limestone, not presenting any extreme variations. However, this stone can be classified into three different types or grades:
– Thin grain: also known as Relvinha, which presents a thin grain and fairly discreet parallel vein.
– Medium grain: also known as Moca Cream Classic, presenting a medium grain and well defined parallel vein.
– Gross grain: the less charming of all Moca Cream grades, characterized by its thick grain and well defined colour. This is a secondary variation.
For all these three main variations, the Moca Cream can be supplied with the cut against the vein or in favour of the vein. Its a simple matter of turning the block before sawing. The favour variations present no vein and some shaded areas with some cloud looking shapes.
Finishings
This is a versatily natural stone, due to its softer nature as a limestone. The Moca Cream can accept well most types of finishings, with very few exceptions as the flamed finishing. But the types of finishings that we most recommend are:
– Polished: with a shiny appearance, highlighting the main elements and colour of this limestone
– Honed: matt look, with very uniform colour
– Brushed: it maintains the natural colour of the limestone, with a smooth surface and a certain grip
– Bush-hammered: a rough type of finishing that changes the surface of the limestone into a more white colour In addition to these finishings, the Moca Cream is also commonly found with split face, tumbled or even sandblasted finishings.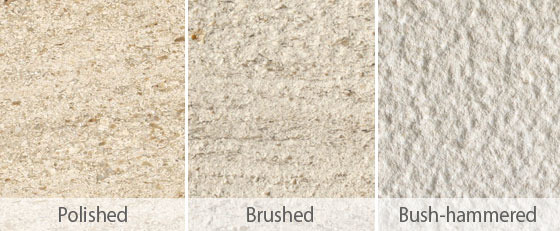 Markets
As a reference beige coloured limestone in the international market, the Moca Cream has a market pretty much in every country. But we could resume the most relevant markets of this limestone as follows:
– China: this market imports large amounts of blocks, for transformation into slabs for the domestic market
– USA: this is a major standard tile consumer and importer of Moca Cream
– Europe: specially the north and East of Europe, where the beige colour of the Moca Cream seem to be appreciated. Here there is demand for all types of finished products.
– Middle East and some emerging economies: there is increasing demand from these countries, where the Moca Cream reputation is turning this limestone as a reference beige limestone for different projects
Applications
As a limestone, the Moca Cream presents some technical limitations. It is not as hard as a granite or marble, therefore it presents limitation in terms of use specially in very cold climates. Nonetheless, a large number of technical analysis have been done on this limestone that have been defining the limitations of this stone. And today, we know that the Moca Cream is a recommended limestone to be used in cladding, flooring, stonework, bath design, coverings and other applications.
It is not recommended for intense applications as flooring with intense use, or for most outdoor applications in places where freezing point is common. In these cases, a specific technical analysis is recommended.