Moca Cream Reference Project: Qatar Embassy in Belgium
The Qatar Embassy in Belgium is a high-profile contemporary project and an international reference for the Moca Cream limestone.
This project involved significant amounts of Portuguese Moca Cream, as well as other limestones such as Gris Europa from Portugal and Basaltina from Italy. Despite the combination of different natural stones, this embassy was mainly made with Moca Cream Classic. The exterior development, including cladding and covering applications, were fully made with this limestone. On the other hand, the interior project included various limestones during its flooring and decoration process. Still, Moca Cream remained the primary source for the interiors and it was largely used in coverings and flooring.
The Qatar Embassy in Brussels was designed by Jaspers-Eyes Architects and supplied by SGM. After several years under construction, the Qatar Embassy project finally met its final stage and in 2014 it achieved a renowned prize, the FEBE Outstanding Precast Award.
According to SGM, the final result is nothing less than a "wonderful project", with an impressive exterior facade, beautiful interiors revealing the parallel vein of the Moca Cream and an overall grandiosity.
Project Profile:
Building Type: Governmental
Location: Boulevard Franklin Roosevelt, Brussels, Belgium
Materials: Moca Cream, Gris Europa and Basaltina
Applications: Exterior Cladding; Interior Coverings, Flooring and Decoration
Moca Cream Exterior Cladding
Moca Cream Exterior Cladding
Moca Cream Exterior Cladding and Walls
Moca Cream Exterior Cladding
Moca Cream Interior Decoration and Flooring
Moca Cream interiors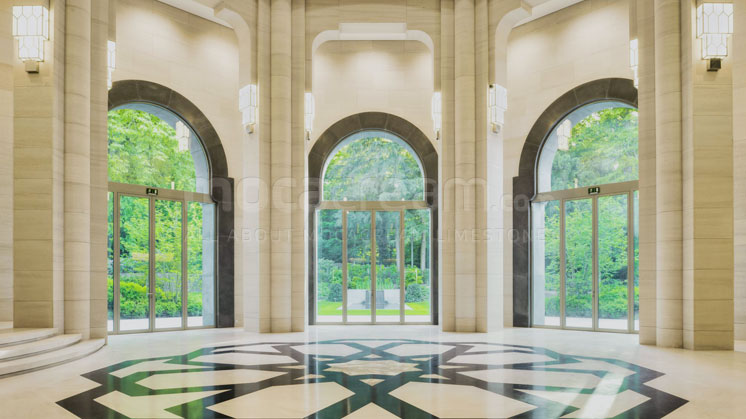 Moca Cream Wall Coverings and Staircases
Moca Cream Interior Coverings and Flooring